Parts Wanted !!

- Volkswagen (VW) Engine: Preferred size 2180cc petrol or methanol, but any size and condition considered.
- Photos of this car (only driven at Western Springs 1982-1983 pre-season practices and appeared on display at Kenny & Kenny Motors, Auckland)
- Tail Tank: 25 - 27 Gallon Fiberglass with round bottom, not flat (as per image below) - rubber bladder style (with bottom of tank fuel and return line plate as pictured).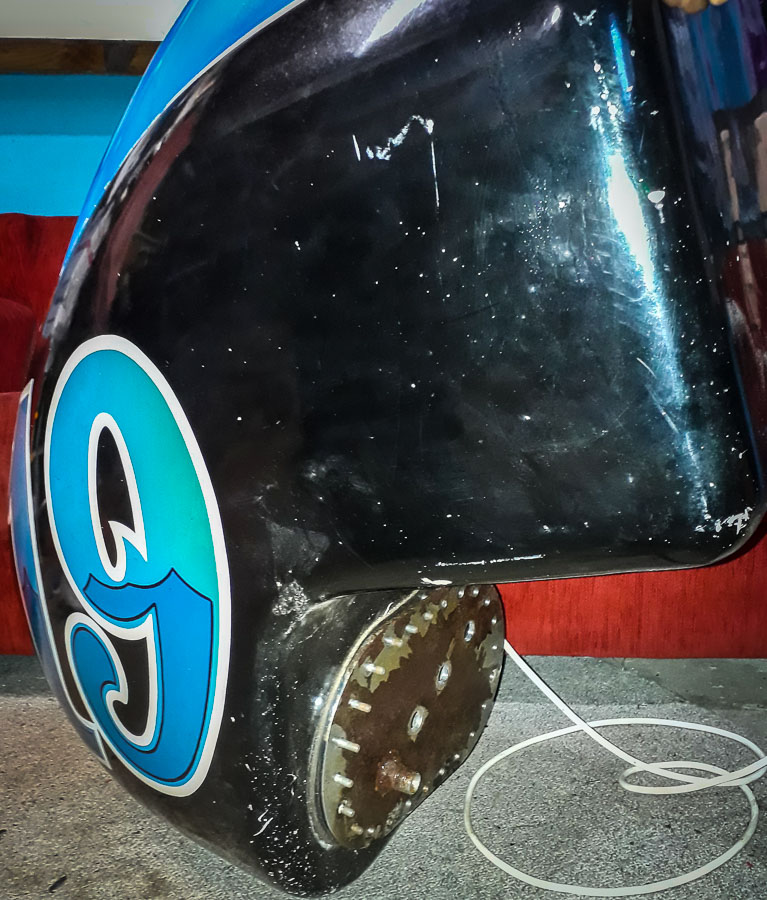 If you have any info please
Contact Me
( Continued from CHAPTER 1 )

Chapter 2: Life on the Farm
The car spent some time on display at Kenny & Kenny Motors, the cars primary sponsor, while a buyer was sought. An eager new owner was found in the form of former Waikato '60's and '70's stockcar terror Dayne Plummer of Patetonga, Waikato. Plummer's intentions were to race it and plans were hatched with a local mechanic to build a 3 cylinder motor that he had recently cast his own block for. The work started on the engine but once again the cars chance to finally race were thwarted when changes in Plummer's marital and financial situation precluded him from continuing his efforts with this car and the project was shelved and the car, still needing an engine, was wheeled into a barn on the sprawling Patetonga family homestead. It is possible that the unrealised 3 cylinder engine is still under a bench in someone's shed in the Waikato.
During its time on the Plummer property, as life's other duties pushed the Midget plans deeper in to obscurity, it wasn't until the mid 2000's that the car saw some interest. Plummer's son had designs on reinvigorating the cars potential as a recreational farm vehicle of sorts and slotted a 2nd hand Toyota 4AGE 4 cylinder engine between the rails and made other small advancements towards its reincarnation. But once again its potential was never reached and the cars new engine was never mated to the drive line and never propelled the yet to be raced car.
The Toyota was eventually removed and the car was rolled under the partial cover a decommissioned open air shearing shed where it sat for over a decade.
Special thanks to all those who have assisted me so far in tracking down parts, advice and information.

(the project is underway and these installments will be posted retrospectively as time allows. Please feel free to comment below)